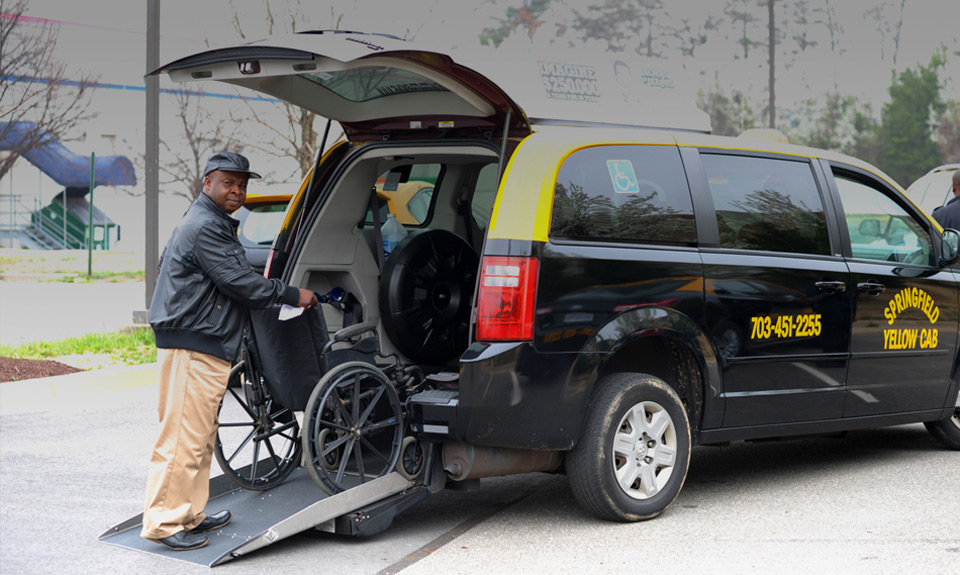 ACCESSIBLE WHEELCHAIR CABS
Are you looking for a reliable taxi service that is able to accommodate standard and power wheelchairs in Springfield and Woodbridge, and at a reasonable rate, too? Look no further than Springfield Yellow Cab, "wheelchair taxi service near my location"! Don't forget that wheelchair cabs need to be booked 24 hours in advance due to a limited number of these special vehicles.
Wheelchair Taxi Cab near Fairfax
SYC provides all sorts of ground transportation services in Fairfax and Springfield alike – whether you need a trip to the doctor's office, any special occasions, family visit, shopping, roundtrip, airport or anything else in between. Simply choose a destination, pickup, and drop-off points and our team will be there to provide the most comfortable taxi service near me there is.
Springfield Wheelchair Accessible Taxi
Our accessible taxicabs are ADA-compliant and designed for standard-sized power wheelchairs and standard-sized scooters. The best way to travel around Springfield is hiring a "wheelchair cab near my area". If you want to travel with friends too, there is plenty of room in our taxicabs. Our expert drivers will drive carefully and will make sure that you arrive on time, exit the vehicle with ease and go on about your day. You can be certain that you are in safe hands with Springfield Yellow Cab, no matter if you choose our hourly or point to point service.
Wheelchair Taxi Transportation near Springfield
Springfield Yellow Cab has the best and most affordable rates for "wheelchair accessible taxi service nearby"! Bear in mind, the taxis will not accommodate an over-sized wheelchair, such as one with extra adaptive equipment attached. While they provide priority service to persons who use wheelchairs, they are available for other passengers when not providing trips for passengers in wheelchairs. This makes it essential to order your taxicab with no less than 24 hours in advance.
Make sure you plan your trip accordingly and book on time to ensure availability.